Magna Touch Lancing Device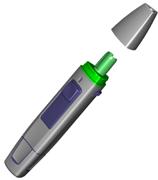 Magnetic drive technology allows smooth vibration-free travel of the lancet for quiet and comfortable lancing. Testing has shown this to be more comfortable than other devices on the market today.
Adjustable depth lets you pick the testing site.
Features
MagnaTouch has several features that cannot be matched by traditional lancing devices.
FOR EXPORT ONLY. NOT APPROVED FOR SALE IN THE UNITED STATES.